Genesee York Rite College No. 25
Assemblies
Date
Time
Location
Details
The dress for the day should be tux for Officers or dark suit for Companion Knights.
If you are an officer and can not attend, contact the Governor so a substitute can be notified.
---
Regular Meeting Places on:
Masonic Temple
Rochester, NY
Officers 2019-2020
Committee Chairmen
| | |
| --- | --- |
| York Rite Cooperation | |
| Membership | |
| Budget and Finance | |
| Degree Teams (Director of Work) | |
| Entertainment | |
| Awards | |
| Nominations | |
| Audit | |
News
Published 2021-06-27 17:19

-

(262 Reads)

-

Memorial Service and Apron Dedication Sat Aug 14 2021
for Most Excellent and Right Eminently Distinguished Brother Edward Smith Newsham, Grand High Priest 1998 and Past Grand Governor.
RSVP Required by August 7 (view reply form)
or call/text 607-435-7767
12:00 am Reception, 1:00 pm Lunch (Brooks BBQ Chicken)
2:00 pm Memorial Service followed by Dessert & Fellowship
Casual Attire
Glimmerglass State Park Lakeview Pavilion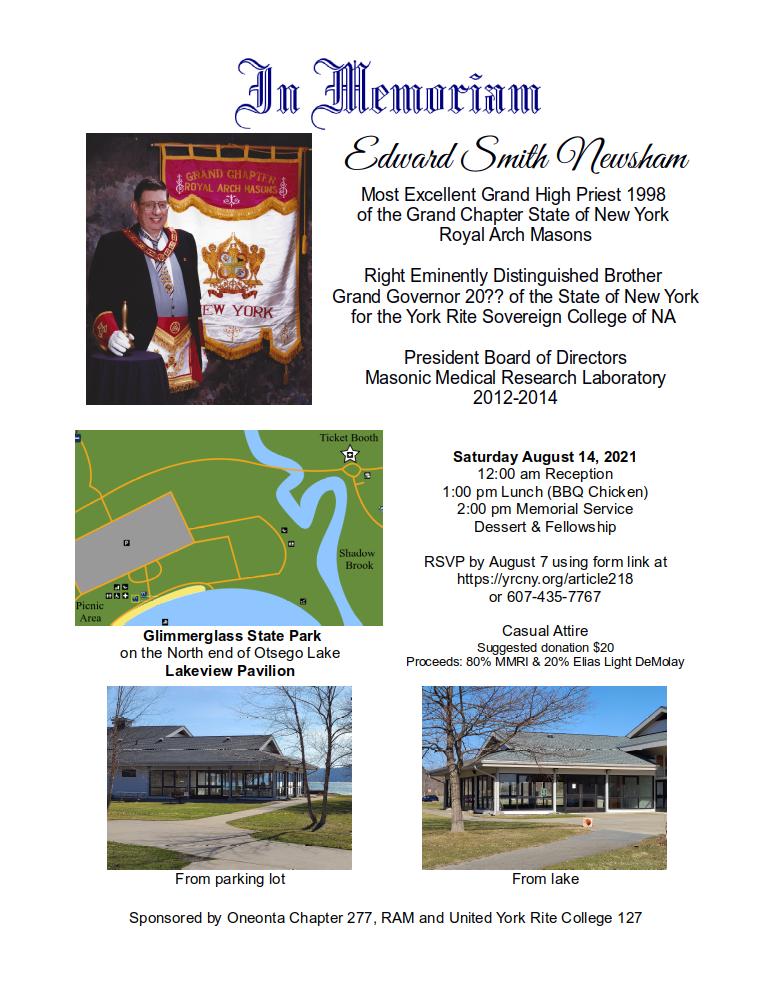 Published 2019-12-19 17:03

-

(2534 Reads)

-

MANHATTAN COLLEGE NO. 210, Manhattan, New York
On Saturday, October 26, 2019, Manhattan College No. 210 received its Charter from Richard J. Kessler, Grand Governor of New York, accompanied by David Stoy, Deputy Grand Governor. The meeting was held in the Grand Lodge of New York, and in attendance were many members of the new College, including the Grand Secretary of the Grand Lodge of New York, R.W. Richard Schulz, and M.E. Edmund D. Harrison, Past General Grand High Priest of the General Grand Chapter (the Governor of the new College). The Grand Governor praised the College for putting on an excellent Order in May, and for their enthusiasm for the new body.
Following the inauguration of the College, the members adjourned to a local restaurant for a festive luncheon.
Fraternally submitted,
Christopher L. Allen
Secretary